People in Hawthornbank on the south side of the Water of Leith have put their weight behind a programme to regenerate their environment: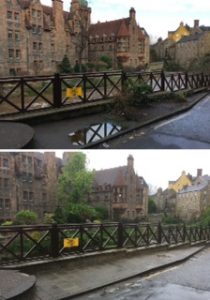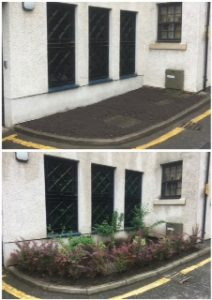 The Dean Village residents, led by Don, their newly appointed technical/design advisor, have approved a programme of regeneration of their locality.  Don said "The support from the residents' committee has been fantastic.  We've introduced 315 new plants and I'm now working on a series of further measures to enhance the area and make the most of its natural beauty.  We love Hawthornbank and it deserves to be seen at its best."
As well as new planting, the western garden area has been transformed from an untidy and tired garden space into a new paved viewing area, and the eastern area replanted with a Berberis hedge.  James Gibb, the local factors, have added their weight to the initiative by replacing the wooden fence by the riverside.
Many other changes are taking place.  Congratulations to Hawthornbank residents for demonstrating an imaginative and creative commitment to enhancing their local environment.
(The tree was saved and replanted!)